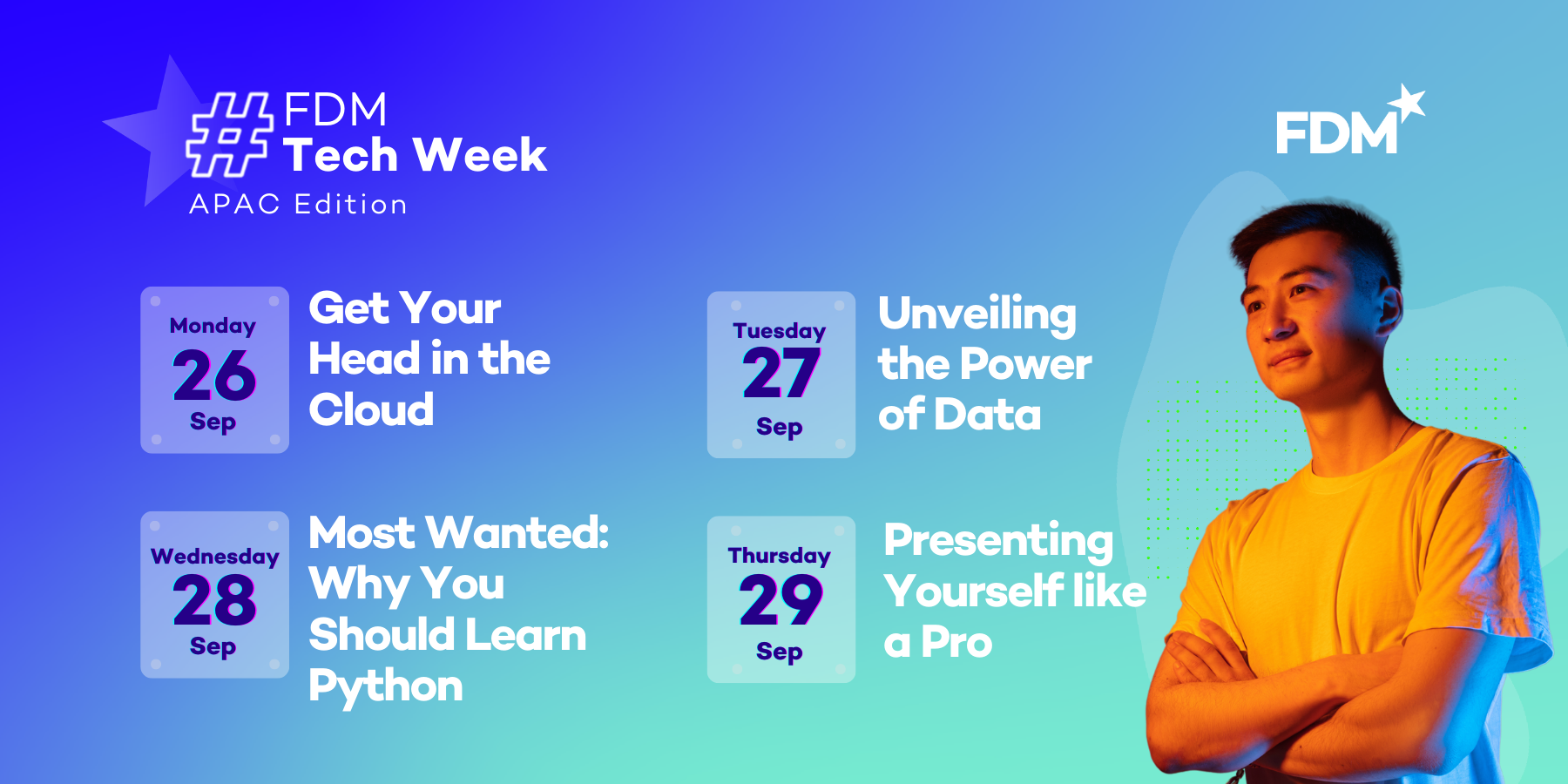 FDM's hugely popular Tech Week – APAC Edition is returning this September.
Over a series of free, one-hour daily virtual workshops FDM's team of industry experts will introduce key foundation IT skills and how easily you can be a part of the world's fastest-growing job sector.
Every day they will address a key, future-focused topic – from cloud computing to business intelligence - and the huge range of job opportunities.
You'll also learn about the FDM Graduate Career program which can equip students from any degree background with the high-demand skills to step into a place with their multi-national clients.
Check out the full Tech Week program and register now! https://bit.ly/3RH5yhB
Get Your Head in the Cloud
Monday, 26 September
4pm-5pm AEST, 7pm-8pm NZDT
2pm-3pm SGT, HKT, CST
Unveiling the Power of Data
Tuesday, 27 September
2-3pm AEST, 5-6pm NZDT
12-1pm SGT, HKT, CST
Most Wanted: Why You Should Learn Python
Wednesday, 28 September
4-5pm AEST, 7-8pm NZDT
2-3pm SGT, HKT, CST
Presenting Yourself like a Pro
Thursday, 29 September
2-3pm AEST, 5-6pm NZDT
12-1pm SGT, HKT, CST
------------------------------------------------------
Please note that:
These terms will not apply to the linked website and you should review the terms applicable to the linked website before using it;
The University has no control over the information, content, or activities of the linked website, and your access to and use of the linked website is at your own risk; and
The University makes no representations or warranties as to and is not responsible for, the accuracy or any other aspect of the information on the linked website.